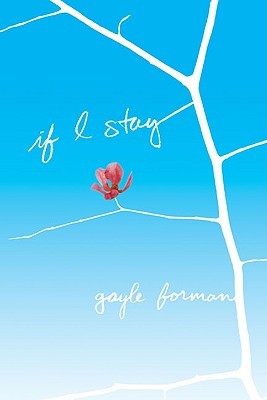 Rating: 4.5/ 5 stars
Title: If I Stay
Author: Gayle Forman
Plot: How do you explain this book? Okay, it is the story of a girl who was in a car accident with her family. Her experience in the hospital, as we see all of her life in flashbacks. If that makes any sense.
Anyway, the plot is great. It's a very interesting idea and it is very well written.
Characters: The main character in this book is of course, Mia. It is from her point of view that we get to see the whole story. Since, the story is about her life, throughout the book we see her family, her boyfriend (Adam) and her best friend (Katy) and of course her love for music.
I think characters are what Gayle Forman does best, in all the books I read by her (which are only three to be honest), what really drew me was the characters. More than anything else though, I love the fact that every character in her books has a characteristic or attribute that sets them apart from everyone else in the story. She makes amazing characters, with amazing character development.
Overview: Overall, I do not have anything negative to say about this book. The only reason I am giving it 4.5 stars is because I liked "Where she Went" more (out of the two). That half a point is the only way I can indicate that. The writing in this book is close to flawless and that makes the book very easy to read. The plot is very interesting and I quite liked reading the story in this, sort-of, backward way that is without a linear time-line.
I would recommend this book to anyone who likes easy reads. Some people might find it a very emotional book, so maybe it's not the ideal "beach type of book", but it is a great book!
Ps. Where she Went – book review and If I stay Movie Review will be up within the week.