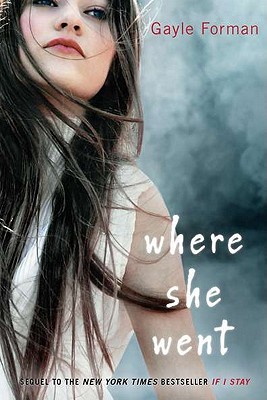 Title: Where She Went
Author: Gayle Forman
Rating: 5/5 stars
Plot: The Second book starts a few years after the car accident in "If I Stay". Instead of Mia's point of view, the story is told from Adam's point of view and it tells the story of their reunion.
Characters: The main characters in this book are Mia and Adam, and although a few other characters make short appearances it is those two that are mainly in the story. Mia and Adam have had such a character development in both books and in the period between the two books. They have changed, grown up, maybe even grown apart (or at least grown apart for a while.) I have nothing to say about the characters other than that they are so engaging and amazing, I wish I read more books with characters as complete as those two were.
Overall Feeling: Overall, this book is amazing. The ending just leaves you feeling fulfilled. There is a sense of closure in this book, that I have not seen in the few contemporary YA romances I've read. The book is very hard to put down and especially in the second half. It really is unbelievable.
Side note: The audiobook is quite book. The narrator is very good and it is generally very enjoyable. But, in the second half of the book, I personally had to switch to the ebook because I just needed to know what would happen next as fast as possible.
Ps. An If I Stay/ Where she went book discussion will go up on my youtube channel tomorrow. Tune in tomorrow if you are interested in watching me rant about these books.