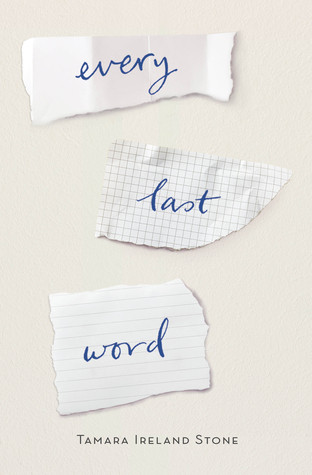 Rating: 5/5 stars
Author: Tamara Ireland Stone
Title: Every Last Word
I received  a free copy of this book through Netgalley in return for an honest review.
Plot: This is a story of love, friendship, poetry and a girl who secretly suffers from OCD.
Now, if that hasn't yet sold you the book, here is a few more information on the plot. Samantha, the main characters has only one aspect of OCD, she is obsessed and totally consumed by her thoughts, some of which are dark. Because she fears losing her friends, she hides her OCD, even though at times that is extremely hard.
The book is so amazing, and it is an amazing page- turner. Personally, I loved reading about Sam and her experience in school. Of course, the poetry aspect of the book is what I loved the most, some parts where purely amazing. (To be honest, I love how in this book poetry is the total opposite of what it is when taught in my school. Poetry here is fun and not over-analysed, it can be about anything!)
Characters: Sam, the main character is a very relatable and at the same time not so relatable character. What I mean is that of course, not everyone can relate to the OCD part of her, but what the OCD brings forth in her, regarding life and love and her friends, is totally relatable. I think Sam is like the dark part of our brain that we push to the side, until we finally manage to make it better.
AJ, who is the guy lead (more like a supporting character), is great too. I wish we could have gotten to know him a bit more, but that wouldn't be possible because of the one point of view narration. However, AJ is an amazing guy and friend, throughout the book we see him supporting other people and generally being an inspiration.
Overall Feeling: Overall, I thoroughly enjoyed the book. I would recommend it to anyone, but keep in mind it is kind of a heavier type of read. (it's not a silly rom com after all) Lastly, at this point I would like to take a moment to appreciate how much thought probably went into the format and to the name of the chapters in this book, it was great. Really recommend you pick this book up (it came out only 3 days ago and it deserves all the hype it has gotten).