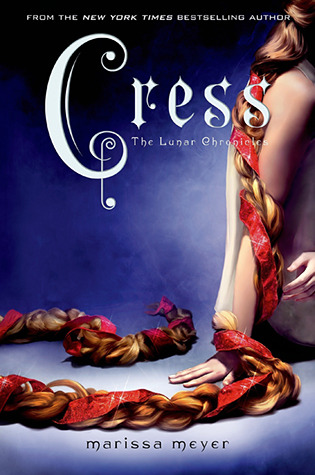 Rating: 4.75/ 5 stars
Title: Cress
Author: Marissa Meyer
The Lunar Chronicles #3
Plot: This book is a retelling of Rapunzel and so far, it is the best book in the series. (a few spoilers exist in this part of the review regarding the previous two books)
So, in Scarlet our main character Cinder escaped from Prison and currently she is in a space ship with Scarlet, Wolf and the Captain. Cress lives in a satellite that orbits the earth, in this book she is rescued.
Cress, is by far the most interesting book in the series so far and that is only because they were some very minor twists that you could not predict from the very beginning of the book. However, it still did not have any major plot twist. The book is fairly action filled and makes for a great retelling, plus the writing is great.
Characters: Cress, who is the new character introduced in this series, is not very appealing (to me at least). If anything, I think she is a little bit annoying. However, she helps make the overall "cast"  of the book a very interesting and peculiar bunch.
Overall Feeling: Overall, I enjoyed reading this book, more than the two previous books in the series. I can't wait for Winter, the final instalment in this series.