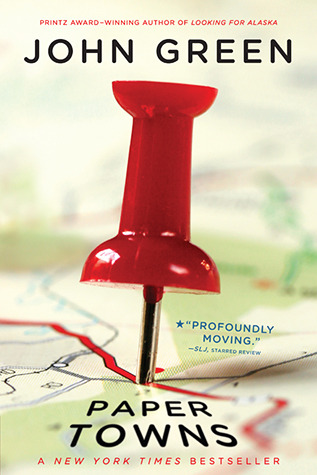 Title: Paper Towns
Author: John Green
Rating: 4.5/ 5 stars
Plot: Quentin has spent most of his life creating an artificial image of who he thinks Margo Roth Spiegelman is, however what he will come to realise is that, things are not always what you think they are.
This book is amazing. Just like always, John Green has written a book that shows that Teens might not always have the clearer mind when it comes to the opposite sex and love. Personally, I loved the plot to Paper Towns. It was really interesting, and although I found it a bit slow at times, it always managed to be interesting. Truly the story of Paper Towns is great, but I feel like it probably is going to be a hit and miss for some people. Nevertheless, the premise is very interesting!
Characters: There are many characters in this book, but I will mainly speak about Margo. Margo is a character that many people I know dislike. Personally, I loved her… at the same time though, exactly because she is presented from Quentin's distorted point of view of who she is, it is really hard sometimes to distinguish between the real Margo and the Margo in Quentin's mind.
Now, when it comes to the rest of the cast, like Radar, Ben, Lacey and Q. Every single one contributes something different to the story, and it is because of the abilities of each character that the storyline unfolds. Radar's tech skills, Lacey's "friendship" with Margo. Each of them has a specific characteristic that makes them useful. More importantly though, all four combined are hilarious. I was laughing out loud at so many  points in this book that I would even go as far as classifying it as a comedy (but that is probably just me.)
Overall: If you have doubts about reading Paper Towns, I would highly recommend you put them aside and pick up this book as soon as possible. It is humorous, witty and intelligent, which in YA are not always predominant.
Have you read Paper Towns or any other John Green book? Let me know what you thought of them in the comment section below!