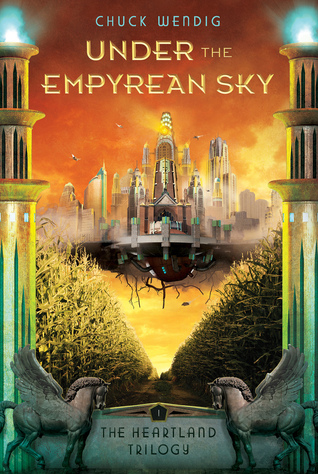 Rating: 3/5 stars
Title: Under the Empyrean Sky
Author: Chuck Wendig
The Heartland Trilogy #1
I RECEIVED A FREE COPY OF THIS BOOK IN EXCHANGE FOR AN HONEST REVIEW THROUGH NETGALLEY.
Plot: In this post- apocalyptic YA book, the world is filled with GMO crops of corn that grows aggressively and does not let anything else grow. Society is divided into two. There are the Heartlanders and the Empyreans. The Empyreans are the ones who live on boats above the corn infested ground and the Heartlanders who are poor and they live on the ground.
The whole concept of this book is very creative and honestly, it could happen. Genetically modified crops are very prominent in many parts of the world, so this book explores a very interesting possibility.
Characters: The book has a many characters, but quite frankly none of them is all that interesting. Cael, the male protagonist is nice but he gets into things without thinking about it, which causes a lot of trouble for his family and friends. Honestly though, the characters are very relatable, in the sense that they are very similar to any other normal human being and they aren't extremely heroic.
At the same time, that makes them less interesting and it is very hard to root for a non- heroic and not that appealing character.
Overall: Overall, the book was enjoyable, but truth be told it was very slow-paced. Then again, I am not the biggest post- apocalyptic fan, so if you are, then I definitely think you should give this book a try.
Have you read the Heartlanders Trilogy? What did you think of it?
Also, what is your favourite post-apocalyptic YA book? Let me know in the comments below.
Don't forget to check out my youtube channel!